Keeping It Local With Flocchini Family Provisions
---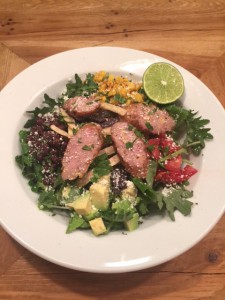 Prep Time: 15 min
Serves: 2
INGREDIENTS:
SALAD:
2 cups baby kale leaves
1 cup corn kernels
1 avacado, chopped
1/2 can black beans, rinsed, drained
15 cherry tomatoes, halved
1/2 tsp chili powder
salt and pepper to taste
2 limes
2 Tbsp fresh cilantro, chopped
2 Flocchini Chicken jalapeno Bratwurst, grilled or cooked in pan
Tortillas strips (optional)
DRESSING:
2 Tbsp olive oil
4 tsp seasoned rice vinegar
vest of one lime
3 tsp fresh lime juice
1 1/2 Tbsp minced chipotle en adobo (smoked jalapeno peppers)
PREPARATION:
In a bowl, mix chili powder and corn kernels, add salt and pepper
Whisk together the dressing ingredients
Slice bratwurst on the bias
Assemble salad:
Baby kale leaves
Top with corn mixture, cherry tomatoes, avacado, black beans
Add bratwurst
Top with tortilla strips and cilantro
Pour dressing over the salad
---
Prep Time: 5 min/ Cook Time: 20 min
Serves: 4
INGREDIENTS:
1 Tbsp olive oil
1 yellow onion, sliced
1 green bell pepper, sliced
1 red or yellow pepper, sliced
1 12 oz. package of Flocchini mild Italian Sausage, sliced in 1/3 or leave whole
salt and pepper to taste
1/2 cup white wine
PREPARATION:
Brown sausage in pan over medium heat. Remove and set aside on a plate.
Add olive oil in the pan.
Saute onions and peppers, add 1/4 cup wine, cover and stir occasionally until peppers are soft and onions are clear about 15 min. There should be a nice glaze.
Add salt and pepper to taste.
Add sausages back into pan with the onions and peppers.
 Add 1/4 cup of wine.
Stir and cover for 5 min. Stirring one more time in between until all of the wine is absorbed.
Serve on a platter or in sandwich rolls.
---