Kristoffer Miranda | Peppermill – Oceano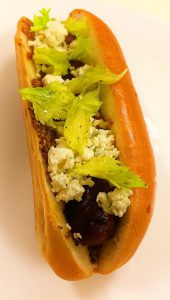 Ingredients
Ale Grilled Chorizo Dog
2-3 ea. Flocchini Basque Chorizo
2-3 ea. Brioche Hot Dog Buns
1 oz. Celery leaves
Dash Olive oil
Dash Lemon juice
Salt and pepper to taste
2 oz. blue cheese
Poaching Liquid
16 oz. India Pale Ale
4 oz. yellow Onions, Sliced
1/4 oz Pepper, Black, Whole
1 ea. bay leaf
3 ea. garlic clove, peeled, smashed
1/2 oz. Worcestershire Sauce
Salt and pepper to taste
Beer Mustard Sauce
4 oz. India Pale ale
2 oz. Whole Grain Mustard
1/2 oz. Honey
Salt and Pepper to taste
Instructions
Prepare the mustard sauce by adding all ingredients in a small pot and let it come to a simmer then place in a container and set aside in the walk in until needed.
Prepare poaching liquid in a pot and bring to a boil. Add the chorizo and poach for 15 minutes then transfer in a container and let cool in the walk-in for at least 30
minutes. Drain then set aside until needed.
Heat the grill and cook chorizo until hot. Meanwhile, prepare celery salad by adding celery leaves, blue cheese, oil, salt, and pepper in a mixing bowl then set aside until needed. Warm up bun on the grill then assemble with mustard sauce, chorizo, salad, and top it off with blue cheese.
Enjoy along with your favorite beer!